Welcome to the site dedicated to the life and work of Louis VAN LINT (Brussels 1909-Kraainem 1986), a key Belgian painter whose plastic creation stretches for fifty years through the heart of the twentieth century.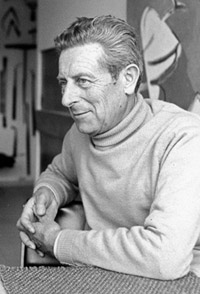 The figurative paintings of his youth (1935-1945), produced in a Fauve-Expressionist manner with an allure that was often Ensorian, immediately proved the originality of his vision and his unusual sense of colour. Star of the annual Apport salons, organised beginning in 1941, and associated during the war with the animist circle of influence, the artist quickly demonstrated his opposition to the peaceful aesthetic tendency with his 1943 painting titled The Flayed Body (L'Ecorché). Recruited by Robert Delevoy in 1945 to found The Young Belgian Painters (La Jeune Peinture Belge), he immediately appeared as one of the association's central figures through the numerous exhibitions that the group generated in Belgium as well as abroad. From the end of this collective adventure in 1948, Van Lint was the first Belgian painter of his generation to explore a lyrical abstraction, a pictorial transposition of sentiments felt through contact with nature. For forty years, the artist thus developed all the potentialities of an abstract language in a lyricism that was enthusiastic yet thoughtful, advanced by the desire to evoke at times telluric forces or marine movements, at times organic buddings or cosmic blazes, but to these he ceaselessly married his own psychic tensions or his desires for internal calm.
Louis Van Lint's oeuvre was unveiled through individual expositions offered by the artist from 1942, notably at the Palace of Fine Arts in Brussels, Paris, and Amsterdam, at the Venice Biennale in 1956, the Museums of Verviers, Ixelles, Charleroi, and Louvain-la-Neuve, as well as the galleries Carrefour and Armorial in Brussels. Furthermore, numerous important collective expositions introduced his work in Belgium as well as abroad (such as Paris, Amsterdam, Stockholm, Cologne, New York, Rotterdam, Le Caire, São Paulo, Pittsburgh, Kassel, and Tokyo). In 1983, the Royal Museums of Fine Arts in Brussels presented a selection of his works on the occasion of the publication of a monograph written by Philippe Roberts-Jones, after that by Léon-Louis Sosset, drafted in 1951 on behalf of the Belgian state. In 2003, a retrospective of the artist's oeuvre was organised at the Museum of Ixelles at Brussels, while a new monograph from the pen of Serge Goyens de Heusch summarised the artist's oeuvre. In the meantime, art historians and critiques never stopped talking about Louis Van Lint's work in various publications or in the press (such as Robert Delevoy, Francine-Claire Legrand, Jan Walravens, Léon-Louis Sosset, Paul Caso, Maurits Bilcke, Stéphane Rey, Alain Viray, Pierre Sterckx, Jacques Meuris, Jean Pigeon, Danièle Gillemon, Claude Lorent and some other; we apologize for not mentioning all of them). Louis Van Lint's oeuvre is hold by most of the Belgian museums and main public or private collections (municipalities, provinces, museums of engravings and drawings, foundations, banks), and in museums outside Belgium as in Lille, Luxembourg, New York (Guggenheim Museum and Brooklyn Museum), Pittsburgh, Sâo Paulo.
Louis Van Lint's oeuvre, as sincere and enthusiastic as the man himself was, remains one of the most beautiful jewels of twentieth-century Belgian painting.